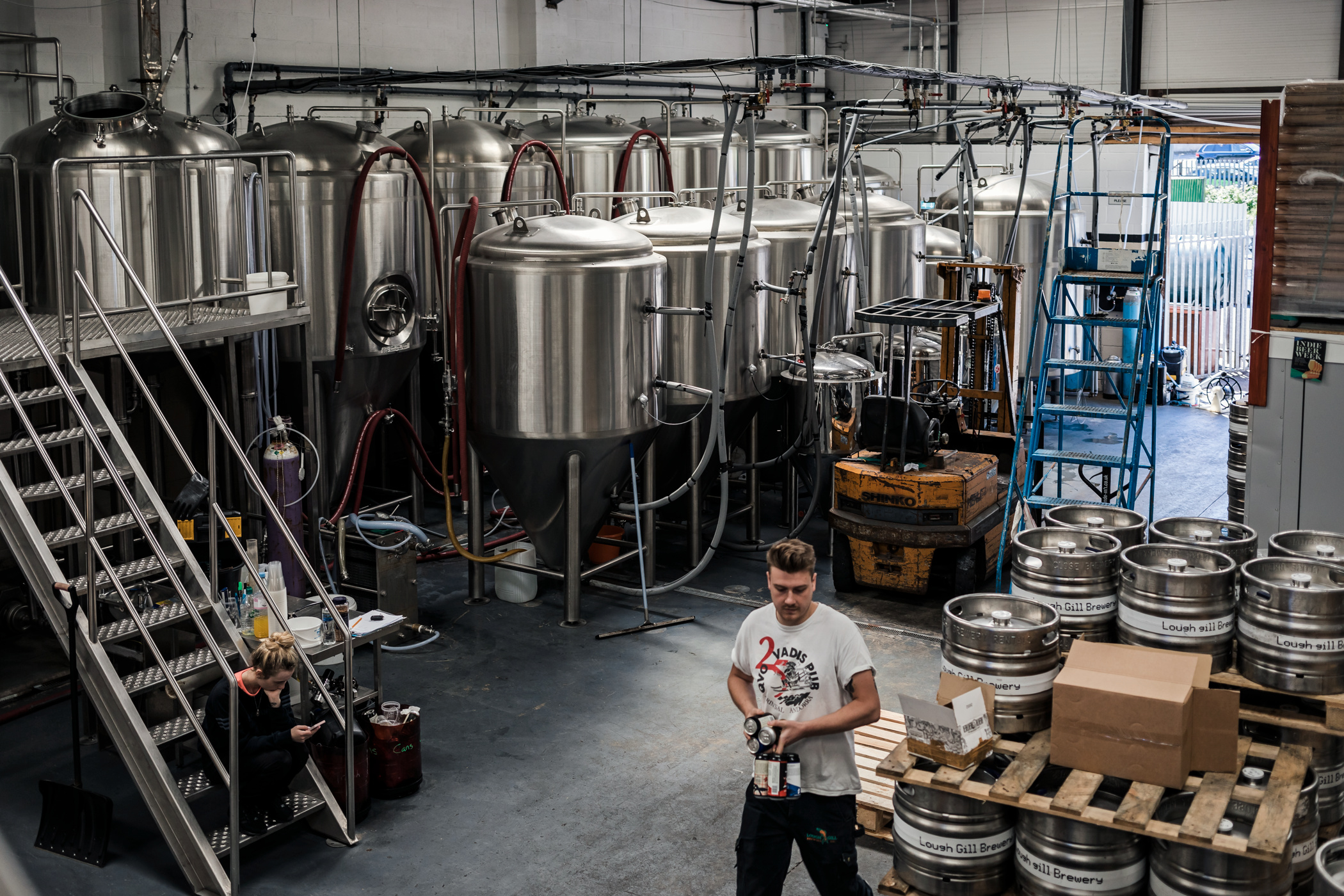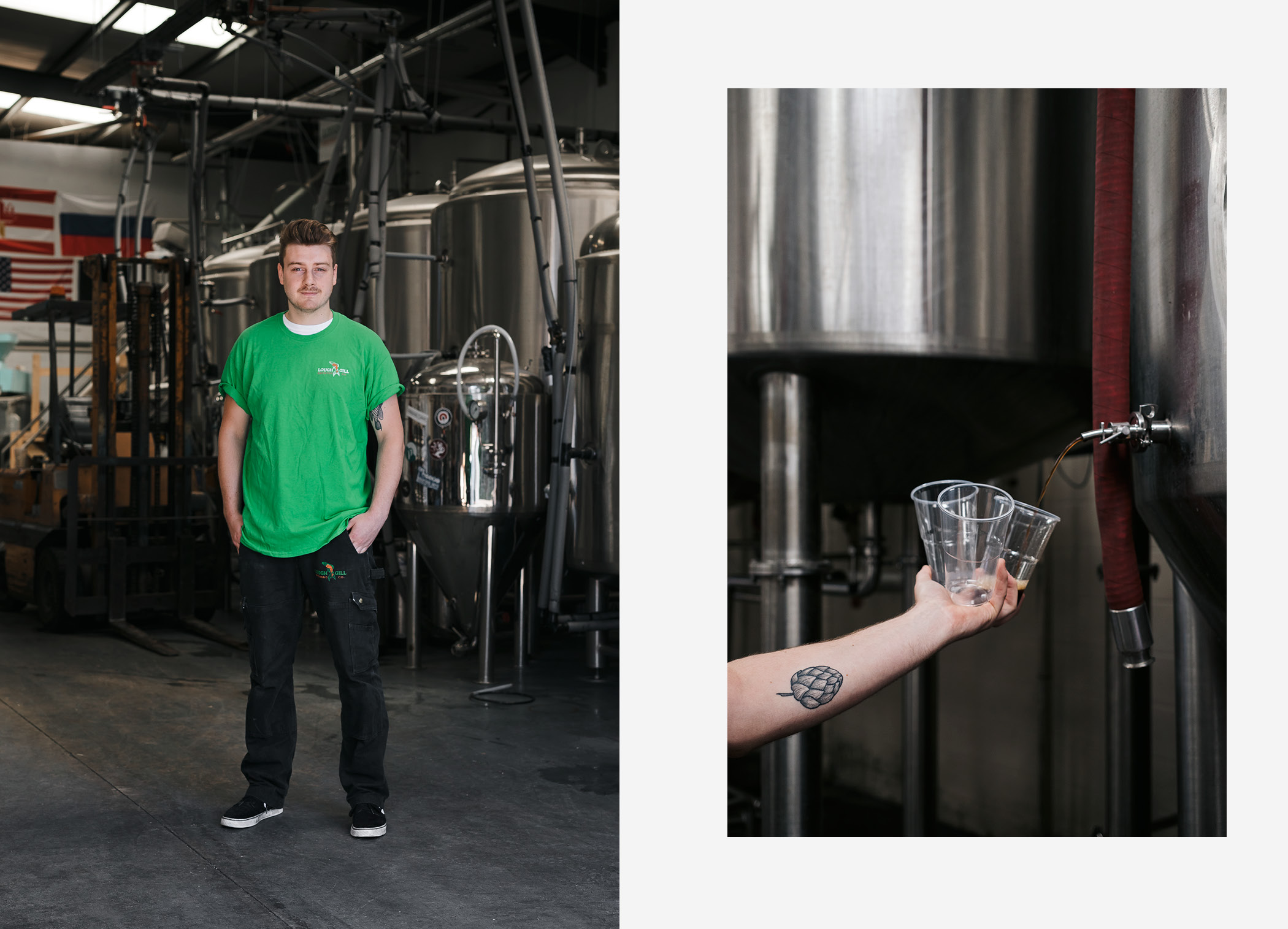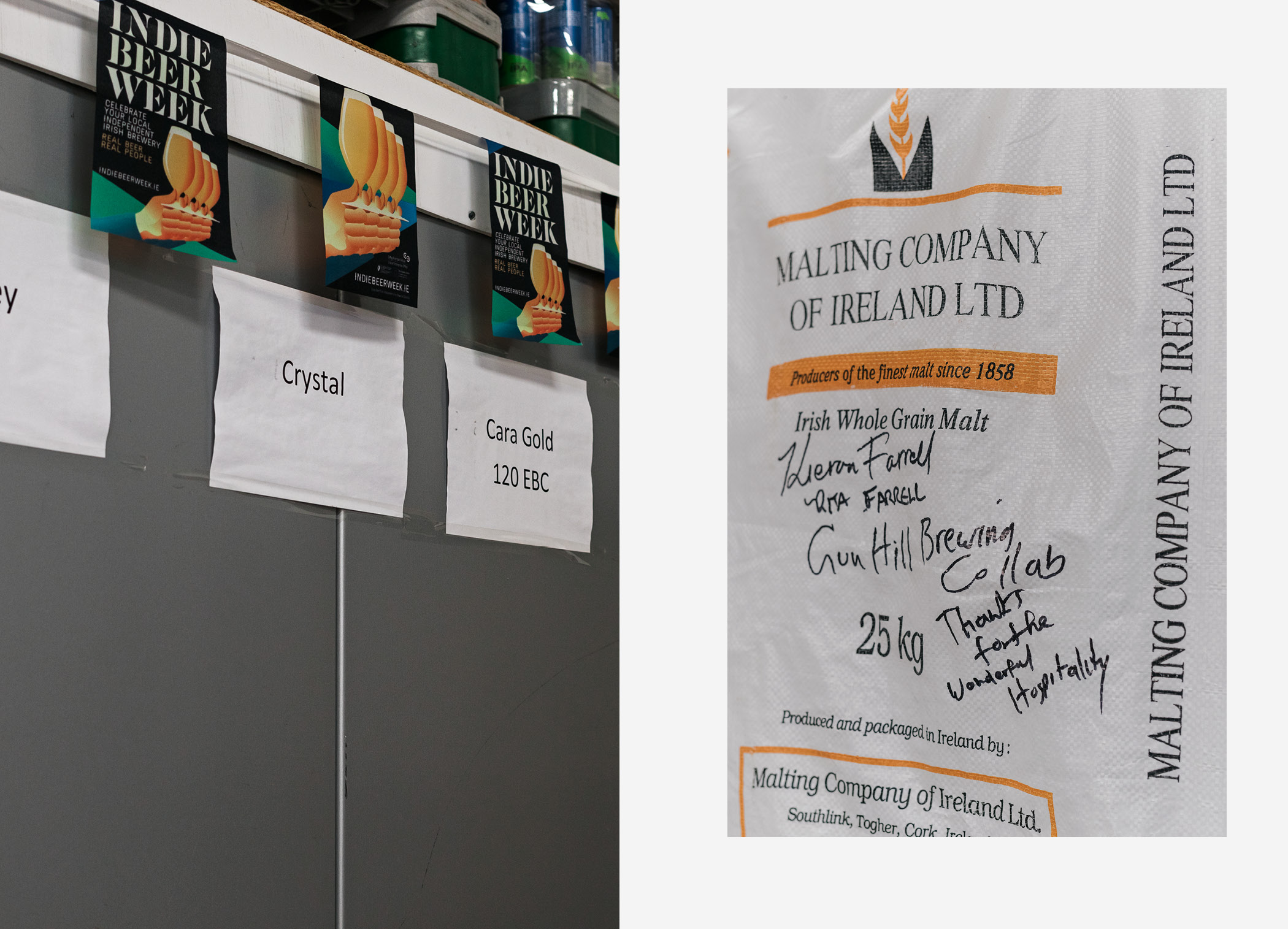 not your average irish
craft beer
It was on our last day on the Wild Atlantic Way, the route that we had roughly followed for over 2500km, when we were sitting at the cliffs of Strandhill beach, watching the sun set, sharing a beer…
…and it was the day after, when we prepared our minds to slowly go back to our day to day life, as we only had to get the MINI back to Dublin, when a guy at a Pub told us: "You liked the Lough Gill beers? Well, you should visit the brewery then! It's literally 5 minutes from here."
5 minutes later on this random Tuesday, we found ourselves driving circles in an industrial area, that looked like nothing was ever going on there, let alone a brewery on the crazy beer track! But google maps told us we were at the exact spot, so we left the car and went to knock at an unpromising white door. There we found a phone number instead, called and another 5 minutes later that unpromising door turned into the smiling face of Jordan Donnelly, head brewer of Lough Gill Brewery!
If we wouldn't have been huge fans of the Irish hospitality already, that day would've made us some. Completely unannounced we came, but Jordan and James, the founder, took over an hour of their time to show us around, tell us everything about the brewery and their beers – and they wouldn't let us leave without a dozen cans as well as some of their screaming green shirts!
Over 100 years ago there had been another brewery called "Lough Gill" in Sligo, but when the big wars shattered Europe all breweries of the area disappeared. With this history in mind and the lake "Lough Gill" as their water source and thus main ingredient for their beers, James Ward and his wife Valerie founded the new "Lough Gill Brewery" in 2016, willing to restore the old brewing tradition of Sligo.
And as the old Lough Gill Brewery had been owned and operated by the Anderson family, the first beer James Ward created in the new brewery was called "Anderson's Ale", which also was the name of the regions most famous beer in the 1800s. To this day it is one of their flagship drafts.
You could say brewing runs in James' blood: He pulled his first pint at 12 years old, and worked in pubs in Ireland and England in his early days. He spent some time at a local beer distributor in the US, then returned to Sligo and worked two short years as a hotel manager. He then became a pub manager for 10 years and finally, with much knowledge added, he stepped into the brewery business founding "The White Hag" in 2013. Later on though he sold all his shares on "The White Hag" to the investors who'd backed it.
From this money and some private savings, hence completely investor free, in November 2016 he eventually started his very own little family business together with his wife Valerie: After 100 years the new "Lough Gill Brewery" in Sligo was born.
Lough Gill's beer philosophy is as simple as good: Brewing the best beer while using the best (and whenever possible local + indigenous) ingredients.
Added to this key stone is their will to always think outside the box, and to brew complex high quality specialty brews.
They really are brewers on a mission! And following that mission they create unique, wonderful and adventurous beers, traditionally brewed, hand crafted and more often than not in small batches only.
"The plan has always been to do big, bold, extreme beers – ones that other people wouldn't brew because they were afraid to just in case there was no market." – James Ward
From their classic range, we really loved "MacNutty", a Macadamia Nut Brown Ale, "Dark Majik", an Imperial Oatmeal Coffee Cream Stout and "No Tracksuits", an
Imp Salted Caramel Chocolate Stout. But to be honest pretty much everything with Oatmeal, Stout or Porter in it's name was delicious.
But then there also is their "Experimental Series" with small one off editions and it's here, where you'll find all the beers you never thought were possible!
We were super lucky on that day, as we were even allowed to taste some previously unreleased specials:
The "Sloe Gin Gose", a collab with London's "Five Points Brewery", with Sloe Berries, Juniper Berries, Lemon Peel and Gin. Then there was Constantins favorite, the "Bacon + Hash Brown Porter", a collab with New York's "Gun Hill Brewery", which is now known as "Mom's Big Breakfast" and contains bacon, that was fried in Connemara Peated Single Malt Whiskey alongside Keogh's potatoes and oatmeal… sounds like a breakfast each mum would serve, eh?
Just to give you the full picture, we also tried an "Oyster Gose" with… yep, oysters. Well, we don't have to love everything they do, right? But we do love their approach to be willing to try out literally anything.
All this passion pays off and after winning Silver and Bronze for "MacNutty" and "Dark Majik" at Dublins "Craft Beer Cup" in 2017 + 2018, they finally brought some Gold home with their "Barrel Aged Dark Sunset Imperial Oatmeal Stout", which won "Best in Ireland" at the Alltech Craft Brews + Food Fair in Dublin!
So: If you think you had them all, because nowadays each beer seems to be craft beer, go to Sligo and try some of the Lough Gill greatness. Who knows what's currently brewing in their minds?
Constantin Gerlach, Laura Droße